GET READY TO RENT
Here's your guide to happier apartment hunting.
You've heard it said before, the most important factor when choosing a home is location, location, location. But, when you're looking for your next home, there are a few more things to think about: your budget, proximity to work or shopping, on-site and in-home amenities, the best size and layout for you, and much more. Getting ready to rent is easy with our apartment hunting guide.
FIND YOUR PLACE
Start your new home search now.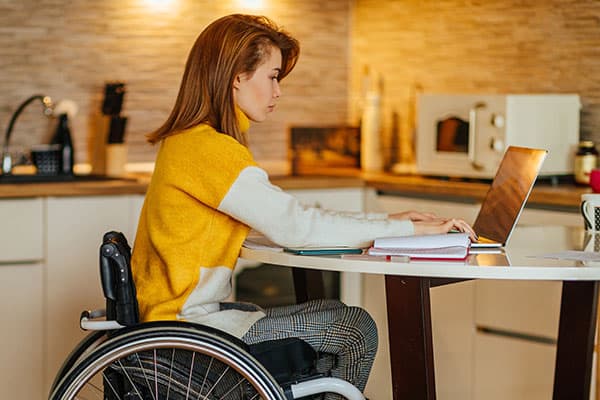 ALREADY A RESIDENT?
Service is at your fingertips.
Log-in to the Resident Portal to manage your account.
FAQ
You've got questions. We've got answers.
How do I find a good apartment to rent?
Once you've figured out what you can spend each month, you'll want to narrow down the list of neighborhoods or communities that fit your needs. You may prefer a community that provides you with a shorter commute, or proximity to public transportation, shopping, or outdoor spaces. Make a short list of what's important to you, then begin your research. We recommend the following: 
Do a quick Google search.

Check out Apple Maps or Google Maps for nearby landmarks, restaurants, and parks.

Ask the locals. Learn about what they like and dislike. Get input on traffic patterns, safety concerns, and nearby hot spots.

Review online neighborhood forums like Nextdoor or Facebook Groups to see what's happening in the area.

Take a test-run of your potential commute during peak traffic hours.

Visit the neighborhood. What do you see? Is the area well-kept? Are there options for restaurants, shops, and recreation?
Check out the pricing of apartments in your top neighborhoods. If prices are more than your budget, you may need to revisit your list of must-haves or expand your search to communities that are close to your desired neighborhood.

What should I look for in an apartment?
Price and location are the top considerations when looking for a new place to live. Once you know your budget and where to look for your new apartment, consider the following:
Size: Apartments are measured in square footage. This is a measure of the total available floor area inside the apartment, including bedrooms, living room, and closet space. Pay attention to the square footage when you are evaluating different floor plans, as the sizes of studio, one-, two-, and three-bedroom apartments can vary widely.
Bedrooms: Apartments are usually offered as either studio or one-, two-, or three-bedroom. While studio apartments do not typically have separate living and sleeping areas, they may not necessarily be smaller in square footage – there are large studio apartments to be found. Studio apartments might be just the right size for you if you don't need more than one sleeping area.
The number of bedrooms you'll need depends on how many people will live in your home, whether each person will have their own room, and whether you'll need additional rooms to use as an office, meditation space, or craft room.
Prices typically increase with the square footage and number of bedrooms in an apartment. So if the price starts creeping up on your budget, you may need to revisit whether you need that extra bedroom.
Bathrooms: You may be totally fine sharing your personal space with every person in your home. But if you are not one to wait for your roommates to finish their get-ready routines, you may want an apartment with more than one bathroom.
Pets: If you have a dog, you will probably want an apartment that has access to outdoor spaces where your pet can do their thing. You may also want to look for communities that have off-leash areas or are close to parks so you and your pooch can get some necessary outdoor time.

Will my furniture fit in my apartment?
Time to take out the measuring tape! Measure the length and width of your existing furniture: bed, dresser, nightstands, couch, coffee table, dining table, etc.
When you take a tour of an apartment or look at a floor plan online, use these measurements to get a sense of how to arrange your furniture in your home. Here are a few general rules to help determine whether your furniture will fit:
There should be at least three feet of space on either side of your bed. If you place your dresser on one side of the bed, be sure to leave enough room for you to move comfortably between it and the bed.

Sofas should be about two-thirds the length of the living room.

There should be eighteen inches of space between your sofa and the coffee table.

Leave thirty inches of space between the edge of the coffee table and the TV or wall in front of it.

There should be thirty inches of space between your dining table chairs and the wall.

If fitting your furniture into your apartment seems like a giant jigsaw puzzle, consider these tips for making it all work in your space:
Put your dresser inside large closets to free up some space in your bedroom.

Use cushioned ottomans to serve a dual purpose as a coffee table or extra seating for guests.

Choose a dining table that can be adjusted by adding or removing a leaf.

Who can help me find an apartment?
Searching for an apartment doesn't have to be your task alone. If you know your budget and preferred neighborhoods, you can always reach out to the leasing team at a property and tell them your must-haves. They'd be happy to help you determine the best place for you. The on-site leasing team can show you the amenities available in the community, tell you more about the neighborhood and what it's like to live there, and will explain any fees.
Can I take a virtual apartment tour?
We'd love to show you around. Take a virtual spin through one of our communities right now or book an in-person tour for a future date and time that work best for you. We're here to help you find a space that fits just right.
Planning to tour in-person? If you're over the age of 18, we'll guide you through a process to verify your identification before you arrive. Safety is our top priority.
Our goal is to show you what it's like to live here. We'll tour amenity spaces, model homes, and any move-in ready homes that match your search. Our leasing team will be on the ready to answer all your burning questions – from pricing and availability, to pet policies and move-in plans. Be sure to tap them for recommendations on the best local restaurants and shops in the area.
How do I fill out an apartment application?
We'll guide you each step of the way if you need a helping hand. But if a solo mission is more your style, follow the simple steps below.
Click on the "Apply Now" button. This takes you to the Resident Portal where you'll begin your application.

Select the apartment home and lease term that best meet your needs.

Follow the steps to set up your account.

Complete the application.

Add contact info for any additional occupants aged 18 and over. We'll send a separate application link to them via email.
Once all occupants (aged 18 and over) have submitted their applications, you're all set.
What is the apartment application process?
We'll start the screening and approval process once we've received an application from all occupants, aged 18 and over. Applicants are subject to approval through a third-party screening service that verifies: (1) household income, (2) rental history, (3) credit screening, and (4) criminal history screening. We may require additional information to provide final approval of your rental application. If this is the case, we'll contact you via email with instructions on what to do next. Documents requested during this process will only be used for screening and verification purposes.
Note: For those applying to rent home or apartment in Colorado: 
Per Colorado HB23-1099, prospective tenants have the right to provide to the landlord a portable screening report, as defined in Section 38-12-902(2.5), Colorado Revised Statutes. If the prospective tenant provides the landlord with a portable tenant screening report, the landlord is prohibited from: charging the prospective tenant a rental application fee; or charging the prospective tenant a fee for the landlord to access or use the portal tenant screening report.
Do I need renters insurance?
Yes, you'll need to maintain and provide proof of renters insurance for the duration of your lease term. If streamlining is more your style, you can enroll in our Lessor's Legal Liability Insurance Policy ("BH Liability"), a policy that fulfills the insurance requirements of the lease, but is not personal liability insurance or renters' insurance, and we'll add the cost to your monthly rent invoice.
APARTMENT SEARCH
Ready to make your next move?